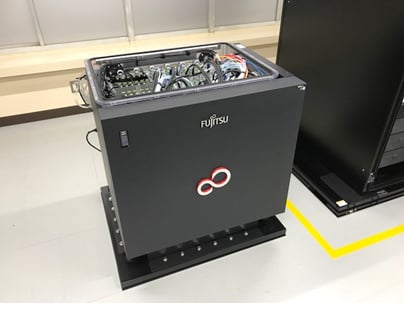 An x86 cluster using a liquid immersion cooling system in operation at JARI. Source: FujitsuFujitsu, the leading Japanese information and communication technology (ICT) company, has provided the Japan Automobile Research Institute (JARI) with an x86 cluster that uses a liquid immersion cooling system, as a new computational system to simulate automobile collisions.
The cluster system consists of Fujitsu Server Primergy CX2550 M2 x86 servers in Primergy CX400 M1 chassis, as well as a Primergy RX2530 M2 as a management server. The system is cooled by applying a Fujitsu-developed liquid immersion cooling system, in which the servers are directly immersed in a non-conductive fluid with high thermal transport capacity.
JARI conducts research into areas such as the safety of passengers and pedestrians when a vehicle collision occurs, using both simulations that recreate vehicles and the human body on computers and real-world experiments using actual vehicles and human body dummies. The results of this research are widely provided to the automobile industry.
The liquid immersion cooling-based x86 cluster will contribute to the manufacture of safer automobiles. Computer simulations can provide more information than experiments using physical dummies. For this reason, JARI needed a system that could provide more accurate simulations while also reducing power consumption, and so decided to adopt this Fujitsu cluster system using a liquid immersion cooling system.
For more information, click here.