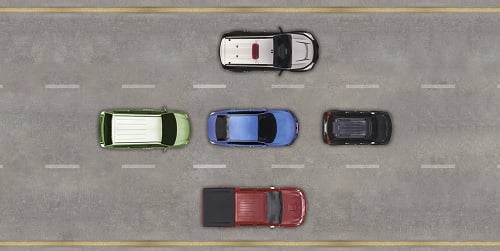 Intel says a self-driving car can't be blamed for an accident regardless of what action the other cars take. Source: Intel
Mobileye's CEO and Intel senior VP Amnon Shashua spoke this week at the World Knowledge Forum in Seoul, South Korea, about a paper he recently penned regarding how to prove the safety of autonomous vehicles.
The paper provides a mathematical formula to ensure that a self-driving vehicle operates in a responsible manner and does not cause accidents for which it can be blamed. Mobileye, which was acquired by Intel in March, has been using its technology for advanced driving assistance systems (ADAS) for many years and this technology is the basis for the formula showing that self-driving vehicles cannot be the cause of an accident, no matter what action is taken by other vehicles.
Shashua called on industry and policy makers to construct standards to define accident fault when human-driven and self-driving vehicles collide. He explains this is needed because the rules and regulations in place today are framed around the idea of a driver in control of the car and new parameters are needed for self-driving cars.
"The ability to assign fault is the key," Shashua says. "Just like the best human drivers in the world, self-driving cars cannot avoid accidents due to actions beyond their control. But the most responsible, aware and cautious driver is very unlikely to cause an accident of his or her own fault, particularly if they had 360-degree vision and lightning-fast reaction times like autonomous vehicles will."
The model shows that autonomous vehicles will operate only within the framework defined as "safe" according to clear definitions of fault that are agreed upon across the industry and by regulators.
To read Shashua's full paper, visit: https://arxiv.org/pdf/1708.06374.pdf