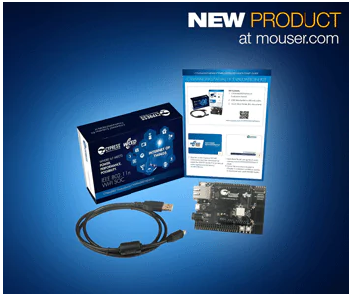 Source: Mouser
Mouser Electronics, Inc., is now stocking the WICED® CYW43907 evaluation kit from Cypress Semiconductors. Enabling device evaluation through production, the evaluation kit offers engineers viable solutions that will greatly reduce time to market, risk and cost when developing production-ready internet of things (IoT) designs.
The Cypress WICED CYW43907 evaluation kit is based on the Cypress CYW43907 system-on-chip (SoC). The CYW43907 wireless SoC combines dual-band 802.11n (2.4 GHz and 5 GHz) Wi-Fi with a 32-bit Arm® Cortex®-R4 application microcontroller subsystem. The SoC features 2 Mbytes of SRAM along with several standardized interfaces, including Ethernet (RMII/MII), UART, SPI/QSPI and I₂C.
The evaluation board has an operating voltage of 3.3 V and features an RJ-45 Ethernet connector, onboard PCB antenna, external antenna connector, an onboard programmer and debugger, as well as a microSD card slot. Plus, the board offers Arduino Uno-compatible headers, allowing designers to prototype additional hardware capabilities through off-the-shelf Arduino shields for sensors and other peripherals.
The CYW43907 evaluation kit is supported by Wireless Internet Connectivity for Embedded Devices (WICED) Studio, a software development kit (SDK) targeting IoT that includes libraries and code examples for Wi-Fi, Bluetooth® and combination connectivity in a single integrated development environment (IDE). The target wireless applications for the development platform include home automation, medical, health and fitness, audio and industrial IoT.
To learn more about the new evaluation kit, visit Mouser.