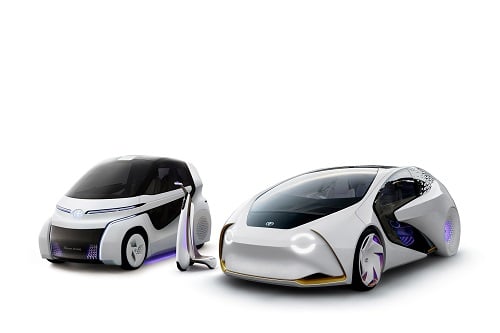 The four door self-driving concept car. Source: Toyota Toyota Motor Corp. has showed off its future version of a mobile society that includes an autonomous vehicle with artificial intelligence that learns to understand the driver and their emotions.
To be revealed at the upcoming 45th Tokyo Motor Show 2017 taking place in Japan from Oct. 25 through Nov. 5, the concept car is a four-wheel model that includes automated driving, advanced safety features, advanced HMI and AI that understands people. Toyota plans to begin road testing the vehicles in Japan beginning around 2020.
The AI inside the car estimates emotion and level of alertness by reading the driver's expressions, actions and tone of voice. It compares general information such as news on the web with information on the driver such as social media activity, GPS information and conversation history in the car. Deep learning installed in the AI allows the concept car to understand its driver to help better predict when it is deemed necessary to take control during dangerous or high-stress situations.
The car will also stimulate the five senses, including vision, touch and smell depending on the emotion of the driver, degree of fatigue and level of alertness to rouse drivers into an alerted state when they feel drowsy. The car will suggest topics to the driver's interest based on their mood creating what Toyota calls an "Emotion Map" by mapping the driver's emotion and GPS data. This data is collected on individual emotions and uses this information as big data.