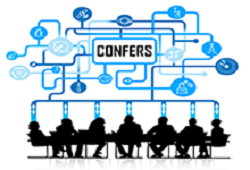 DARPA has awarded Phase 1 of its CONFERS program to a team led by Advanced Technology International. Source: DARPA
On-orbit robotic servicing of satellites is now a near-term possibility, offering scope for robotic vehicles to physically inspect and maintain these assets. Such capability can markedly lower construction and deployment costs while extending satellite utility, resilience and reliability.
The lack of on-orbit servicing and safety standards is viewed as a barrier to deployment of this technology. In response, the Defense Advanced Research Projects Agency (DARPA) has launched the Consortium for Execution of Rendezvous and Servicing Operations (CONFERS) program. The initiative will develop a permanent, self-sustaining and independent forum where industry can collaborate and engage with the U.S. Government in research about on-orbit servicing, as well as drive the creation of standards that servicing providers and clients would adopt. Standards are expected to be broad enough to allow individual companies to pursue their own implementations of these standards to suit their businesses while ensuring that the implementations adhere to best practices for operational safety.
Phase 1 of the program has been awarded to a team led by Advanced Technology International, based in Summerville, South Carolina.
DARPA plans to transfer CONFERS leadership and funding to industry by 2021 when the Agency is scheduled to perform its first on-orbit demonstration of its Robotic Servicing of Geosynchronous Satellite program, which focuses on services for satellites in geosynchronous orbit.