The Internet of Things (IoT) is often regarded as industry's digital revolution, as most of us envision sensors and actuators embedded in physical objects linked through wired and wireless networks, often using the same Internet protocol that connects the Internet.
The technology is not restricted to improved automation and data management in manufacturing. The IoT also encompasses smart grids, virtual power plants, smart homes, intelligent transportation and smart cities. Each component is uniquely identifiable through its embedded computing system but is able to interoperate within the existing Internet infrastructure.
Do you wear an activity tracker? Have home appliances controlled by your smartphone? Then you are already part of the IoT.
Applications for direct integration of the physical world into computer-based systems are now rapidly expanding in the medical and healthcare sectors. The emerging Internet of Medical Things (IoMT) is predicted to generate as much as $1.1 trillion a year in value worldwide by 2025 by improving the health of chronic-disease patients.
What can we expect as the IoT is brought to bear on healthcare?
Healthcare Facilities
Hospitals can optimize resources as well as patient care through automated workflows. Many healthcare facilities currently rely on IoT capabilities to improve asset management, control humidity and temperature within operating rooms, provide continuously monitor patients and reduce errors and costs. RFID tags can be placed on medical equipment and supplies so that hospital staff can remain aware of the quantities in stock.
Connected Wearables
Perhaps the most obvious evidence for the steady penetration of the IoT into healthcare is the plethora of wearable devices for diverse purposes. In addition to continual monitoring of a user's health status, these consumer products also encourage compliance and adherence to medication regimens.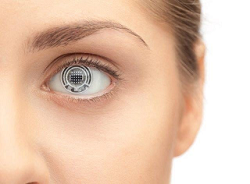 Transparent biosensors in contact lenses could soon help track our health. (Credit: Jack Forkey/Oregon State University
Oregon State University researchers designed contact lenses with embedded indium gallium zinc oxide biosensors to track glucose levels for diabetics. Google is also developing a smart contact lens consisting of a wireless chip and a miniaturized glucose sensor. Lenses such as these transmit monitoring data to an external device. Much to the relief of diabetics, they also eliminate the need for painful finger pricks.
Another example of smart wearables is the connected medical-grade biometric patch developed by Qualcomm Life. The patch is based on the company's 2net™ Design platform, a reference design platform for electronics modules which power connected medical devices, including disposable drug delivery devices and disposable diagnostic devices. Designed to allow healthcare professionals to monitor patients across the care continuum with access to near real-time data, the patch measures a variety of biometric parameters, including clinical thermometry and sophisticated motion measurements.
Smart Implants
Pacemakers that communicate data to smartphone apps for sharing with physicians, sensors that are embedded in orthopedic implants to communicate performance post-surgery or glucose sensors that communicate diabetics' glucose levels to smartphones or dedicated readers are examples of smart implants.
A pacemaker engineered at Rice University harvests energy wirelessly from radio frequency radiation transmitted by an external battery pack. The microchip can be implanted directly to pace multiple points inside or outside the heart.
Medtronic makes it easy for heart device patients to stay connected to their doctor. The MyCareLink Smart Monitor for pacemaker patients, including CRT-P, combines a reader and an app, making this a convenient way to send heart device information remotely to your doctor between clinic visits or whenever you're not feeling well.
A smart sensor from Orthosensor, VERASENSE, enables surgeons to quantify ligament balance by giving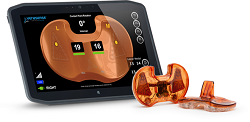 This smart sensor improves the outcomes of total knee arthroplasty. (Source: Orthosense)them real-time, evidence-based data during primary and revision total knee arthroplasty. This disposable, intelligent device delivers data wirelessly to an intra-operative monitor that enables surgeons to make informed decisions regarding implant position and soft-tissue releases to improve balance and stability through a full range of motion. This monitor – the LinkStation MINI – displays intraoperative data on a high definition tablet screen, mounted to a rolling stand that is designed for easy navigation around the operating room, while occupying minimal space in the OR.
Assists for Senior Citizens
Varied smart products are available for some disabilities that seniors suffer from. One of the most interesting ones is Opn smart hearing aids by Oticon. With features such as direct Bluetooth connectivity to smartphone for calls or streaming music, and the ability to control volume and switch programs on television with smartphone app support, it is a "smart" solution for seniors.
Virtual home assistants such as Catalia Health's Mabu robot or Intuition Robotics ElliQ robot interact with seniors via voice and touchscreens, and help them stay connected with their family and friends digitally via social media platforms and video chat. These systems also help patients remember to take their medications, take notes and remind patients about their care providers' medical advice.
Another type of virtual assistant includes voice-interactive digital assistants like Amazon Echo or the healthcare-specific version provided by Lenovo Health in partnership with Orbita Health. For seniors, such devices can be used for medication adherence and care coordination, as well as patient engagement.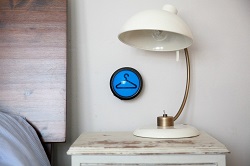 Customizable colored buttons flash to remind patients to complete a given task. (Source: Nominet)Other smart products have been designed with aging-related disabilities in mind. A solution for sensory- and cognitive-impaired seniors is Nominet's Pips for management of daily routines. Customizable colored buttons installed in seniors' residences flash until the task that patients are being reminded of is performed and a button is pressed.
The Shape of the Internet of Medical Things to Come
Start-ups and developers shared the leading cutting-edge innovations transforming today's global health care system at the Health 2.0 11th Annual Fall Conference, just held in Santa Clara, Calif., during October 1-4, 2017. The event also includes a Launch! competition, in which 12 new companies are selected to unveil their products and the audience votes on a winner.
New product releases included 1upHealth, a platform for patients, providers and app developers to aggregate and share medical data and wearable device metrics. The system is designed to facilitate the use of patient-generated data to reduce readmissions.
Courage Health was introduced as an AI healthcare chatbot for cancer patients and their families to better understand their life expectancy and treatment options through a modern, low-stress conversation.
Suggestic is an AI nutrition coach that analyzes eating habits and food preferences to guide users in food selection for weight loss, reduced disease risk and health improvement. Suggestic taps into augmented reality technology to provide direction on what to eat in real-time. This video briefly showcases the capabilities of this year's Launch! winner.
Almost 60 percent of healthcare organizations have already adopted healthcare IoT or IoMT and realized cost savings, improved their profitability, visibility and customer experience. An estimated 4.5 billion IoMT devices existed in 2015, accounting for 30.3 percent of all IoT devices globally. This number is expected to grow to 20-30 billion IoMT devices by 2020, according to analyst and research firm Frost & Sullivan.
The prognosis: the IoMT will continue to play a more significant role in everybody's lives.