Think you might be ill? Blink once for a diagnosis. Eyelid motion — blinking speed and frequency — can provide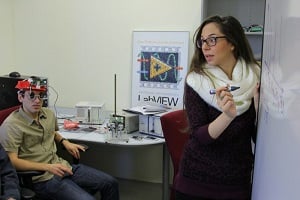 Dr. Oz Levinkron (seated), of the Technion Faculty of Medicine, wears the Technion-created device that can diagnose diseases based on eyelid motion. At right is lead researcher Adi Hanuka, of the Technion's Andrew and Erna Viterbi Faculty of Electrical Engineering. Source: American Technion Societyimportant information about ophthalmic, neurologic and systemic diseases.
An eyelid motion monitor developed at Technion-Israel Institute of Technology as a diagnostic tool has earned several international awards and has been used in clinical trials at Haemek Medical Center in Afula, Israel.
Standard refraction glasses used in eye tests are fitted with a hardware and software system that monitors and interprets eyelid movements. The system was designed based on magnetic field sensors detecting movement of a tiny magnet located on the upper eyelid and was used to document measurements of approximately 100 subjects in order to define the eyelid motion patterns of a healthy person. The eyelid motions were analyzed with a signal-processing algorithm.
The set-up was used to assess blepharospasm dystonia, a disease characterized by involuntary contraction of the muscles responsible for closing the eyes. A statistically significant quantitative relationship was determined between a person's eyelid pattern and the disease, which means that the device could be used for this diagnosis.
The effect of Botox injections, the conventional treatment for the disease, was also studied, revealing that within 15 minutes contractions decrease and the blinking pattern begins to match indices that exist among healthy people.
The researchers are also gathering information about other patient cohorts, including those with dementia and Parkinson's disease.