Supermicro has introduced a full suite of all-in-one solutions optimized for the growing embedded appliance, intelligent datacenter and network edge markets. Supermicro's systems and motherboards optimized with the new Intel® Atom™ C3000 (Denverton) system-on-chip (SoC) feature lower thermal and power requirement and can perform 2.5 times better than previous generations.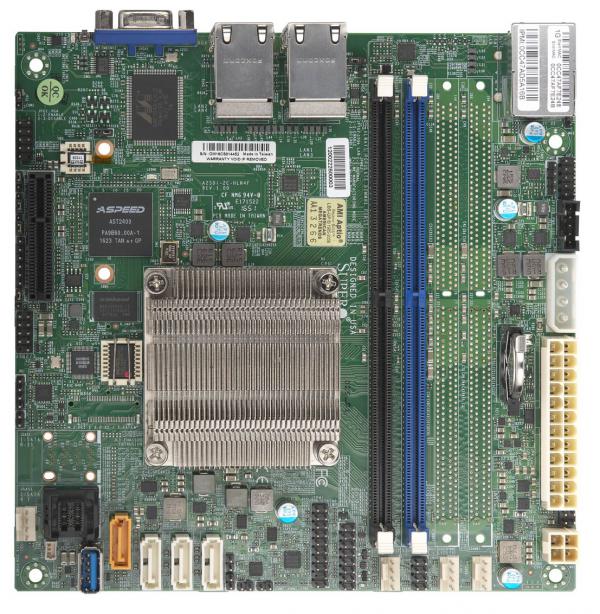 Supermicro's A2SDi-2C-HLN4F motherboard. (Source: Super Micro Computer)
Supermicro's new A2 series motherboards have 2 to 16 Atom cores, up to 128 GB error-correcting code (ECC) memory, quad 10G SFP+ or RJ45 ports and up to 7 years of life. Supermicro A2Di series motherboards are optimized for low-power servers, storage appliances or web hosting applications. They are integrated with Intel QuickAssist Technology (QAT) for network security appliances. The new power full-featured motherboards extend the foundation of Supermicro's embedded Server Building Block Solutions®. They expand the growing line of products targeting transportation and communications infrastructure, retail applications, digital signage, industrial automation, digital security and surveillance, cloud and cold storage, medical imaging, and network/security appliances.
Supermicro offers a commodity off the shelf (COTS) model with standard form factors, like the Flex and mini-ITX motherboards, to provide customers with flexible access to applications including vCPE, NFM, SDN and SD-WAN. Solutions range from 1U box and compact 1U rackmount designs to mini-tower and a 3U MicroCloud system designed for energy-level dedicated hosting and memory caching applications for system form factors.
Along with the full suite of compact systems with lower thermal and power requirements, Supermicro customers can choose between AC or DC power supplies and fanless options. Networking and storage expansion capabilities with mini-PCIe and M.2 sockets make easy application hosting and storage.
For more information on Supermicro's range of embedded solutions visit their site here.