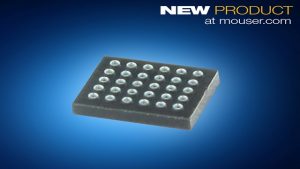 The new PMICs from Maxim. Image credit: Mouser
Mouser Electronics, Inc. is now carrying MAX77650 and MAX77651 power management integrated circuits (PMICs) from Maxim Integrated. These PMICs are small, ultra-low-power and integrate voltage regulators with a charger. They also incorporate current regulators to reduce external component count when designing small lithium-ion battery-operated products.
Maxim's MAX77650 and MAX77651 PMICs offer flexible and configurable power management solutions in a size of 28-by-28 millimeters. The devices achieve their small size through a single-inductor, multiple-output (SIMO) buck-boost regulator that offers three independently programmable power rails. The MAX77650 operates at up to 3.3 volts and the MAX77651 operates at up to 5 volts. Both of these products include an analog multiplexer output for safe battery monitoring. This makes them ideal for low-power designs.
The devices offer a standby current of .3 microamps and an operating current of 5.6 microamps when three SIMO channels and the low dropout (LDO) regulator are enabled. The devices' arrays or programmable options make them ideal for battery-powered devices like Bluetooth®-enabled headsets, fitness monitors and more.
To learn more about these new products, visit Mouser.