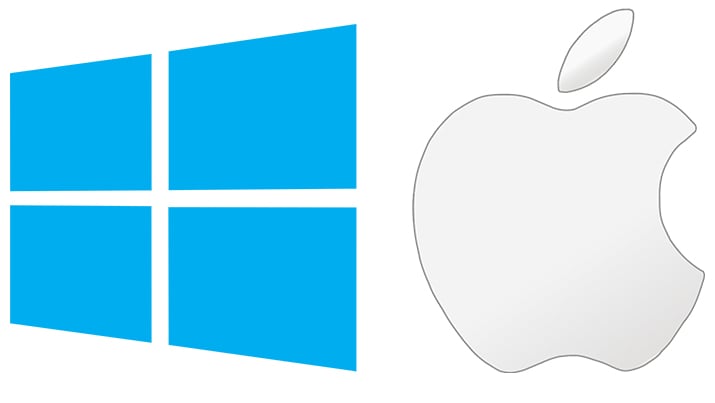 I started writing for IEEE GlobalSpec about two months ago, which makes me the newest member of the editorial team. After being underemployed as a freelancer for a couple of years, being offered a full-time position with all the attendant perks (health insurance, 401k, an actual office to go to) certainly held a significant appeal. But one of the things I was most nervous about was what kind of system I'd be working on – a Mac or a PC.
Before layoffs made their way to my neck of the woods, I spent several years working in various creative positions at a daily newspaper. The presumption there was that creative types (designers, photographers, etc.) should get Macs, business types (salespeople, circulation staff, etc.) should get PCs. And although my first computer had been a PC, and names like IBM and Dell followed me through college and my early "adulting" years, once I got myself on a Mac I felt as though a fundamental change occurred in my relationship to computers.
The PCs in my life had been tools. Powerful but frustrating, always in need of some kind of TLC to get them through being fragmented or infected with malware or just inexplicably slow like molasses, they sometimes made me wonder why I even bothered using them for tasks that could just have easily been done with old-school tools like pens and paper.
The Mac, by contrast, felt like an extension of me. Always responsive, almost always intuitive, trusty and – dare I say, friendly? – it always made me feel like I could solve any problem, complete any task, just by virtue of its being by my side.
On my first day at the office, my deepest fears were realized – I'd be working on a PC! I began to be frustrated almost immediately, constantly calling the Help Desk for answers to way more than my fair share of problems, wallowing in existential angst over how I could've possibly fallen so far as to be in this position at this stage of my career.
Then one day a casual remark to a Help Desk intern made me realize that there were, in fact, some people in the office using Macs. Not company-provided ones, mind you, but their own. They were sort of working as rogues, or at least on their own recognizance – they couldn't call the Help Desk for support on their machines, and they had to be willing to figure out their own workarounds for the various PC protocols that allowed everyone to work on the same page.
I breathed a huge sigh of relief. I owned a MacBook Pro that I could easily bring in – and while I'm not much of an iOS expert, my feeling was that I didn't really need to be. The Mac would know how to connect to the office network. The Mac would know how to talk to the VPN on work-from-home days. The Mac wouldn't let me down.

And in fact, this has proved true. Just having it there – even if I log on to the PC and never take my MacBook out of its case – is enough to make me feel like everything's going to be all right.

Macs cost more. A lot more, in fact. According to a recent whitepaper from Apple management provider Jamf, the cheapest laptop from Apple starts at $999, whereas some PCs come in at half the cost. This probably has a lot to do with why many organizations don't even consider the Mac when outfitting their enterprise. But that same whitepaper goes on to outline how, when all costs are considered, the PC is actually the more expensive choice. Get past the initial outlay of funds for the hardware, and you see all kinds of additional PC expenditures that the Mac takes into account from the beginning. Things like the ability to bind the operating system to the organizational domain, for which PCs need the "Pro" version of Windows 10. Things like full disk encryption, and protection from malware – Mac's built-in FileVault and XProtect take care of these, respectively. Things like deployment solutions – Windows-based organizations need to spend time and money on imaging to get a PC ready for a new user, whereas the Mac's built-in Device Enrollment Program makes this a snap. The list goes on, in terms of management systems for enterprise environments, support staff resources and so on. Simply put, Macs just need less help.

Perhaps the most telling part of that whitepaper is the information that IBM, which has deployed nearly 100,000 Macs in the past two years, has concrete data that backs up the decreased need for support on those systems – PC users drive twice the number of support calls; out of support tickets opened, 5 percent of Mac users required an in-person visit, versus 27 percent on the PC side; only a fraction of the company's IT staff is needed to manage Macs. That's IBM talking. IBM!

So clearly it's not just me that feels this way. And given that my editor asked me to look at that Jamf whitepaper as a reference point for writing this commentary, well, maybe there's hope I'll see more Macs on-site soon. But it hardly matters. I'm working from home today, and I'm writing this on my Mac.