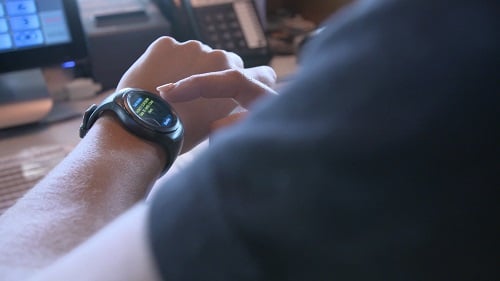 The smartwatch solution provides a lock down feature allowing employees to only access apps a company wants them to. Source: SamsungSamsung Electronics America, Inc. and wearables platform house Hipaax are collaborating on a smartwatch platform for businesses aimed at improving productivity and efficiency in the workplace.
The platform uses similar capabilities found in smartphones but for a wearable for use in hospitality, retail and transportation markets. The solution features hands-free technology and will allow businesses to customize a wearable interface based on company needs and provide a gamified experience for employees.
The collaboration will take Samsung's Gear S3 or Gear S2 smartwatch combined with Hipaax's task management platform that will notify workers via the wearable to accelerate employee responses to workplace tasks and allow instant communication among co-workers.
Samsung says the new platform simplifies IT management, employs Internet of Things (IoT)-enabled capabilities and is customizable. Samsung KNOX, the defense-grade security software, let's businesses lock down employee wearables for specific purposes, restricting use to a single app for conducting business leaving workers with just the functions needed to perform tasks.
According to a report from Forrester Research, 62 percent of decision-makers identify wearables as a critical, high or moderate priority for enterprise organizations.
Buffalo Wings & Rings has implemented the Samsung/Hipaax solution in their restaurants in order to improve communications/interactions such as greeting guests, checking tables, serving drinks and cleaning tables. The restaurant chain also uses the watches to improve customer relations.
At Cincinnati/Northern Kentucky International Airport, the facility that serves 6.7 million passengers annually, uses Samsung's wearables to match staff resources to peak restroom usage times, notifying via wearable when a facility needs cleaning.