Medical All-in-One Computers from Cybernet Manufacturing (Irvine, CA) power themselves and connected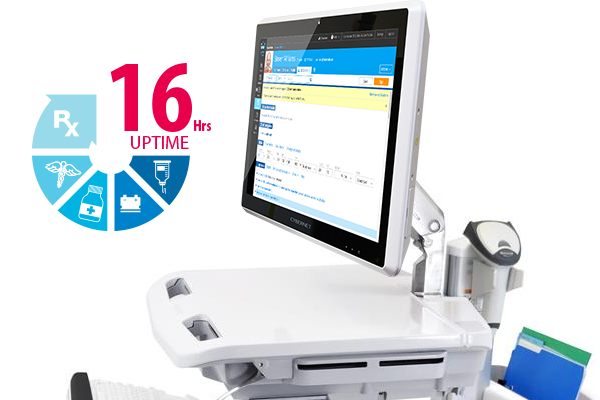 Three hot swap batteries with a total runtime of 16 hours is ideal for non-powered carts. Image credit: Cybernet Manufacturingperipherals such as barcode readers, printers and scanners, bringing PC mobility to healthcare. The CyberMed NB series is designed to be standalone, without reliance on AC power.
The CyberMed NB24 24-in. all-in-one medical computer is powered by three hot-swap batteries, offered in a lightweight build ideal for non-powered medical carts.
The NB models offer up to 60 W of power through a convenient DC power output jack on the I/O coastline. A point-of-care team can use the non-powered cart, medical computer and peripherals without ever having to plug in. The hot-swap technology lets medical staff change the batteries without powering off the device.
Complete with a fingerprint reader, internal RFID and Imprivata SSO, the CyberMed NB series features three batteries that last up to a total of 16 hours.