Researchers at the University of Tokyo and Someya Group Organic Transistor Lab have developed an ultra-thin, ultra-flexible protective layer of electronic skin (E-skin) that could be used to measure blood-oxygen levels, heart rates and many other applications currently being tracked by wearable devices.

The E-skin features an air-stable, organic light-emitting diode (OLED) inside the protective layer that could be integrated with the human body to enhance or restore body functions while being only two micrometers thick. While biomedical researchers have long sought to create wearable electronics that attach to the body, the millimeter-scale thickness glass or plastic substrates have only provided limited flexibility while smaller-scale flexible organic devices have not been stable enough to survive in the air.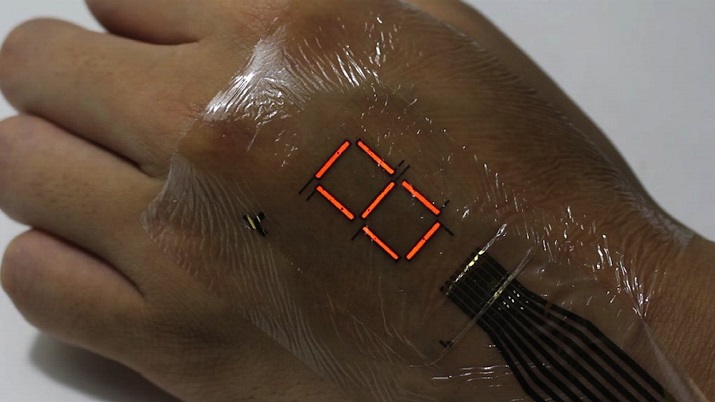 The two-micrometer-thick protective layer of "E-skin" could change the way people communicate or how consumers interact with each other. Source: Someya Group Organic Transistor Lab Led by the University of Tokyo's Professors Takao Someya and Dr. Tomoyuki Yokota, the research group was able to produce the protective film that could be used for future innovations in high-performance wearable electronics displays or other devices that are ultra-thin and highly flexible.

"The advent of mobile phones has changed the way we communicate. While these communication tools are getting smaller and smaller, they are still discrete devices that we have to carry with us," Someya says. "If electronics manufacturers could create devices that didn't have to be carried and instead be adhered to the human body, these devices might enhance the way consumers interact with others and change how everyone is able to communicate," Someya says.

How it Works

The protective film was created by alternating layers of inorganic (silicon oxynitrite) and organic (parylene) materials to help prevent the passage of oxygen and water vapor in the air. This extended the device's lifetime from just a few hours—as seen in previous research—to a number of days. The group then attached transparent indium tin oxide (ITO) electrodes to an ultra-thin substrate, making the E-skin display possible.

With this protective layer and ITO electrodes in place, the researchers created polymer light-emitting diodes (PLEDs) and organic photodetectors (OPDs). The researchers say these devices were thin enough to be attached to the protective layer with enough flexibility to distort and crumple in response to body movements. The PLEDs were three micrometers thick but more than six times more efficient than PLEDs previously created.

Because of the ultra-thin nature of the PLEDs, heat generation and power consumption were reduced, making them suitable for direct attachment to the body for medical applications such as displays for blood-oxygen concentration or pulse rate, the researchers say.

Learn more about the findings from the University of Tokyo by visiting: http://advances.sciencemag.org/content/2/4/e1501856

To contact the author of this article, email engineering360editors@ihs.com.