Integrated Device Technology Inc. (IDT) has rolled out a 24-bit sensor signal conditioner (SSC) chip for consumer barometric pressure and thermopile sensors.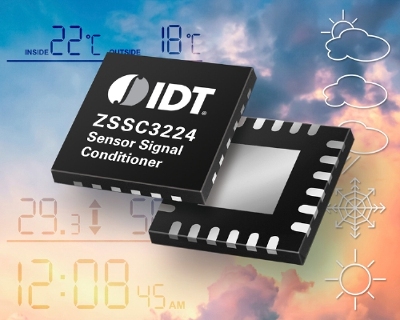 When combined with a 26-bit DSP, the chip can be used in consumer, industrial, white goods and medical applications. Source: IDT
When combined with a 26-bit digital signal processor (DSP), the ZSSC3224 IC can be used for high-resolution consumer, industrial, white goods and medical applications as well as to benefit mobile products such as smartphones and tablets, IDT says. The SSC was developed based on IDT's recently acquired Zentrum Mikroelektronik Dresden AG (ZMDI) and expands a family of SSCs for high-end sensor modules from the San Jose, Calif-based company.
The ZSSC3224 sensor interface delivers amplification and a 24-bit precision full-featured analog-to-digital converter. These features make the IC suited for high-precision measurement systems including barometric altitude measurement for portable navigation or emergence call systems, altitude measurement for car navigation, pressure measurements inside hard disks and weather forecasting equipment, IDT says. The chip in either die or wafer form can also adapt thermopile sensors to enable contactless temperature measurements of objects or human body temperature.
The SSC IC is available now in production level quantities.