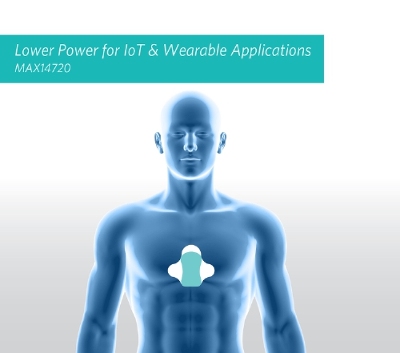 Maxim's 14720 power management IC (Source: Maxim)The MAX14720 power management integrated circuit (PMIC) from Maxim Integrated Products, Inc. enables designers to optimize power and battery life for wearable medical/fitness and Internet of Things (IoT) applications.
The MAX14720 PMIC is designed for non-rechargeable battery (coin cell, dual alkaline) applications where size and energy efficiency are critical. In addition, an electronic battery seal extends shelf life by effectively disconnecting the battery prior to initial power-up.
Integrating the functionality of five discrete devices—power switch, linear regulator, buck regulator, buck-boost regulator, and monitor, the MAX14720 reduces the bill of materials (BOM) and allows for much smaller form factor designs.
While most battery PMICs operate from 3 V, the MAX14720 runs from a primary cell and operates down to 1.8 V. Low quiescent current IP is critical for wearable applications because it can extend the runtime of the system significantly. An electronic battery seal extends storage life and allows for a fully sealed housing. The chip also has value-added features such as push button input monitoring, power-up sequencing, and voltage rail monitoring to further reduce BOM cost and space.
The chip is available in a 25-bump, 0.4 mm pitch, 2.26 mm x 2.14 mm wafer-level package (WLP), specified to operate over the -40 °C to +85 °C temperature range.