Connected-car technology has certainly come a long way in a few short years: Embedded Bluetooth, built-in GPS navigation, rear cameras, intelligent voice command, smartphone-like touch screens, vehicle health diagnostics, blind-spot warning and detection, adaptive cruise control, and, coming soon, hand gesture control.
However, there is still work to be done, namely in educating consumers about these new technology features and encouraging their regular use after the car leaves the dealership, industry experts say.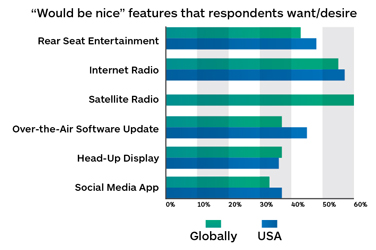 Although millions of dollars are being spent on technology development and deployment, there appears to be a disconnection between the installed hardware and software becoming a standard in auto systems design and what consumers use regularly in their cars.
There are a few reasons why this seems to be happening. In some cases, car dealers may not be going far enough in promoting or explaining the technology to new buyers. In other cases, proprietary car system technology does not have plug-and-play with existing apps or features on other electronic devices commonly used by drivers. Drivers that may have purchased their last car eight to ten years ago when CD players were a "must-have" norm, may not even be aware of the technology added in over the last decade. Tech-savvy consumers—now accustomed to the speed and convenience of mobile phone technology—are likely to get frustrated and give up on in-vehicle technology because of lag times in processing or connectivity expectations, or the human-machine interaction (HMI) experience in their cars is perceived as less intuitive than the experience they have with other familiar devices, according to industry experts.
"The reality is that there is a lot of technology in cars today and consumers may not know what is available," says Mark Boyadjis, an IHS senior analyst of automotive infotainment and HMI. "The onerous is on automakers and dealers to promote and show drivers what their cars can now do and what features are now included."
While some OEMs are taking a lead on this and developing incentives and Apple-like genius bars to teach dealers and drivers about the technology, this has not quite equated to true customer knowledge of what is available, says Boyadjis, adding that has led to a bit of a disappointment in technology adoption.
Consumers must also actively educate themselves in what new tools are available to them, he says.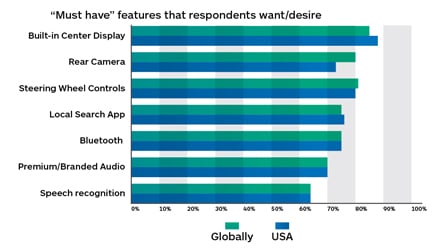 "I would also argue that customers need to realize they are not driving cars from 2005 anymore," he says, noting that some of this will be ironed out as features become standardized. "We are now approaching infotainment standards that will have features such as app and over-the-air updates and cybersecurity. This starts sounding like features found in computers, phones and other consumer electronics people are familiar with."
Some of these technology adoption gaps were mentioned in a recent J.D. Powers report. The firm found that at least 20% of new-vehicle owners have never used 16 of the 33 technology features measured. The five features owners most commonly say they "never use" were in-vehicle concierge, mobile routers, automatic parking systems, head-up display and built-in apps, according to the report.
On the flip side, when viewed through a different filter, these statistics suggest that many drivers are widely using many new technology features and want connected cars to seamlessly integrate with their daily routines. IHS research, for instance, shows that potential car buyers have added various features to their must-have list including: built-in center display, rear camera, steering wheel controls, local search app, Bluetooth, premium/branded audio and speech recognition.
The Road Ahead
The increasing desire for and acceptance of technology puts the in-vehicle infotainment market in a good growth position. IHS expects to see auto
infotainment units continue to outpace sales of non-infotainment units both globally and in the North America market in the near term.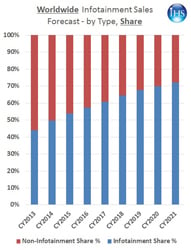 However, while innovation and keeping up with customer demand are important, technology developers must also consider the complexity that comes with adding more features into cars and develop them with the dual of purpose of improving usability and performance, Boyadjis says.
"We feel that adding new technologies to meet customer demand is a good thing, but if you don't do it on purpose, or if it is done as an afterthought and not designed into the whole system architecture, that will lead to a let down," he says. Everyone in the auto supply chain should be concerned with this because there will be low customer satisfaction if drivers perceive features as not intuitive to their needs, hard to use or are distracted by the processer speed, power or performance lag time, he says.
Those with their hands deep in auto technology development are grappling with this balance as well.
"In many respects car connectivity is still the Wild West. Many automakers have an embedded, proprietary solution with a range of functionality and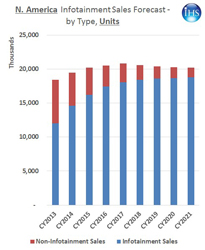 ease of use. Some are more user friendly and widely deployed than others. However, car and handset manufacturers have also recognized the importance of wide appeal, device interoperability and consumers' preference to use their own apps while they drive," says Alan Ewing, president and executive director of the Car Connectivity Consortium (CCC), which is developing MirrorLink, an open standard for car-smartphone connectivity aimed at certifying popular cars, handsets and apps to work seamlessly.
Like Boyadjis, Ewing sees the "ease of use" issue as one of the biggest challenges any new technology faces, and it is something the auto supply chain is now contending with head-on.
"While developing MirrorLink, we knew this was one of the main challenges we had to get right. We challenge ourselves with the "Does it just work?" question every day, and as a standardized technology we can't hide behind a proprietary approach," Ewing says in an email interview. "To us, the biggest gap lies in what consumers want to access from their mobile devices and what's actually available on their dashboard, whether they take advantage of the manufacturers' pairing interfaces or not. The sooner consumers can plug in their phones and access their favorite apps from the dashboard—in a manner that conforms to established guidelines in driver distraction—the sooner the Wild West of car connectivity will become an elegant metropolis."
To contact the author of this article, email engineering360editors@ihs.com