Advanced motor control technologies were demonstrated by Microchip, a provider of microcontroller, mixed-signal, analog and Flash-IP solutions, at APEC 2018 in San Antonio.
The company maintains that advanced motor control often does not require a digital signal processor (DSP), but performance rewards can be reaped from the DSP resources found on Microchip's dsPIC® Digital Signal Controllers (DSCs). Its sensorless field-oriented control algorithm makes use of the single cycle MAC with data saturation, zero overhead looping and barrel shifting to achieve superior performance.
Features include:
dsPIC33F/E DSC core
40/70 MIPS, dsPIC33EP series - 3.3V & dsPIC33EV series - 5V
12 KB to 536 KB Flash, 1 KB to 30 KB RAM
Dedicated time base with up to 8 motor control PWM outputs
Up to 2 quadrature encoder Interfaces
Up to 4 comparators with 19ns response time and having blanking function and digital filter
Integrated op amps for BoM optimization
Up to 16 channels, 10-bit resolution, 1.1 Msps high-speed conversion rate
12-bit A/D converter (up to 0.5 Msps operation)
Up to eight input capture, output compare, standard PWM channels
Communication peripherals including UART, SPI, I²C, CAN and SENT
20-pin to 100-pin package options
Extended and high temp (125°C and 150°C)
Microchip's 16-bit, PIC24 MCUs and dsPIC® Digital Signal Controllers deliver more performance, low power consumption, flexible peripherals, and a complete development ecosystem of software and hardware tools to speed development. With specialized peripherals for motor control, digital power conversion, low power security and advanced analog integration, the 16-bit family offers a good balance between low cost, low power and high performance. The broad product line includes everything from eXtreme Low Power microcontrollers to high performance digital signal controllers. Download the 16-bit embedded control solutions brochure to learn more.
Microchip offers PIC24 MCU devices as well as dsPIC33E, dsPIC33F and dsPIC30F device families of dsPIC DSCs for motor control applications.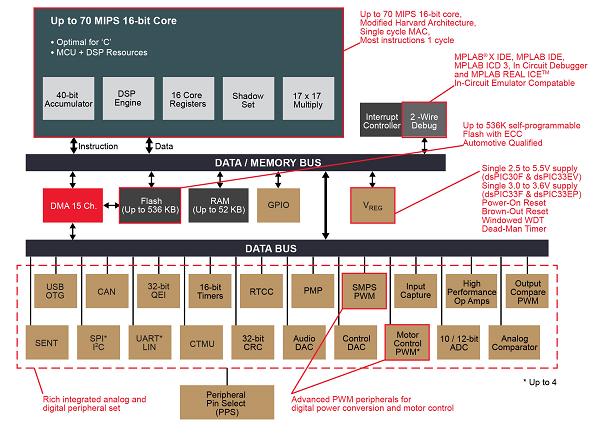 Source: Microchip