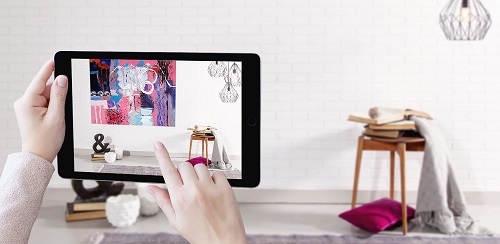 Using an iPad or smartphone, the VR Maker can now be used in e-commerce retail sites. Source: Istaging
Istaging has entered the online retail market with its self-serve virtual reality capture system by signing an agreement with Chinese e-commerce giant Alibaba at this week's 2018 Mobile World Congress.
The company has already entered the markets for real estate, interior design and property lighting with its VR offering and now it will be integrated with Alibaba's Tmall, e-commerce platform. Using the VR system, Tmall sellers can use the Istaging VR maker to digitize their physical stores in virtual reality. Then, the VR content can be uploaded on Tmall and sync VR content on Tmall with search results based on the location and distance of their physical shops.
AT MWC 2018, Istaging says it will unveil its VR Maker system as well as showcase how it can be used for the retail and e-commerce industries. The company is also offering augmented reality solutions to support e-commerce and retail industries, allowing retailers to digitize real objects in AR.
Mobile World Congress is taking place this week in Barcelona.