OmniVision Technologies has announced a collaboration with Hong Kong Applied Science and Technology Research Institute Company Limited (ASTRI) to develop a reference design for production-ready augmented reality (AR) glasses.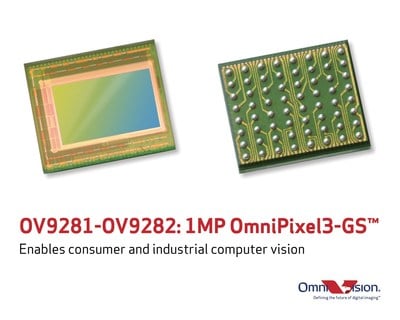 The new reference design for AR glasses uses the OV9282 (OmniVision)
The complete AR glasses solution combines OmniVision's lightweight and power efficient OP02220, a single-chip 1080p high definition (HD) liquid crystal on silicon (LCOS) display with integrated driver and memory butter, with ASTRI's reference design, which integrates optics and system electronics that provide an industry-leading 60-degree-wide field of view for an improved user experience.
The AR market is in its early stages and it is growing rapidly. The International Data Corporation (IDC) predicts a compound annual growth rate at the 113 percent between 2017 and 2021, driven initially by demand for applications like consumer gaming, retail showcasing and manufacturing training.
Therapy and rehabilitation and public infrastructure maintenance, both take advantage of wireless head-mounted displays, and are among the applications in which IDC expects to see the fastest growth over the forecast period.
ASTRI's wireless reference design will offer OEMs and ODMs the opportunity to license the technology, obtain a prototype and accelerate their product launch. High-quality optics from ASTRI allows an unprecedented 60-degree field of view as part of its fully qualified complete electronics system for AR glasses.
The reference design leverages OmniVision's OP02220 LCOS display and OV9282 image sensor to enable inside-out tracking like SLAM, 3D room scanning, and hand/tool tracking. The OP02220 enables simpler system designs, a smaller form factor, lighter weight and up to 40 percent lower power consumption compared with display systems using two or three separate driver and memory-buffer chips. The OV9282 is built on OmniVision's OmniPixel3-GS™ pixel technology to capture 1280x800 pixel images at 120 frames per second (FPS) with low latency.
To learn more about this, visit OmniVision's site here.